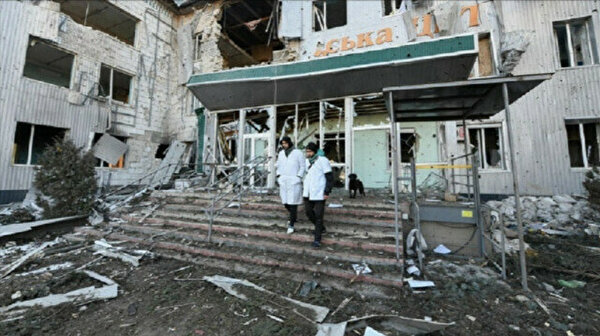 WHO confirms 91 attacks have targeted Ukrainian health facilities since war began
The World Health Organization said on Thursday it had verified 91 attacks on health facilities in Ukraine since the war began on February 24.
Ukraine is living through "dark days", WHO Europe chief Hans Kluge told a briefing from Lviv, a city near the border with Poland in western Ukraine. Ukraine, the 43rd day of the war.
"Routine polio and measles vaccination coverage is below the population immunity threshold, 50% of Ukrainian pharmacies are presumed closed, and 1,000 health facilities are near conflict zones," Kluge said. , who had to temporarily move the press conference underground due to an air raid warning.
He said around 80,000 babies would be born in the next three months with insufficient antenatal and postnatal care available due to the ongoing conflict.
The WHO has prepared for different eventualities in Ukraine, "anticipating that health problems will get worse before they get better", he added.
He said the global health body was looking at all scenarios and planning contingencies for different situations, from continued treatment of mass casualties to chemical attacks.
– World Health Day
"Today is World Health Day, the day the WHO was founded 74 years ago in the aftermath of World War II to uphold the principle that health is a human right. man and that everyone should enjoy the highest state of health," Kluge said.
He expressed his deep admiration for the Ukrainian medical staff who are protecting people's health in these times of immense hardship.
"Our humanitarian mandate and principles call on us to ensure health for all – including the poor and most vulnerable – wherever they are," Kluge said.
"We have a fully functional office in Lviv and are setting up an operational base in Dnipro, in east-central Ukraine, to mobilize resources more quickly and reach some of the most vulnerable people in conflict zones with urgent supplies," he added.
According to the regional head of the WHO, about 260,000 people living with HIV live in Ukraine.
Along with the President's Emergency Plan for AIDS Relief (PEPFAR), Ukrainian authorities and WHO have ensured an adequate supply of antiretroviral drugs to meet the needs of every person living with HIV in Ukraine over the past next 12 months, he said.
Kluge said Ukraine was making excellent progress on specific challenges before the war began, including in its fight against tuberculosis (TB) and HIV.
"It was a beacon of best practice in Eastern Europe, with TB incidence nearly halving over the past 15 years, thanks to investment in modern diagnostic technologies to rapidly identify the disease. TB infection and effective treatment regimens for multidrug-resistant TB," he said. .