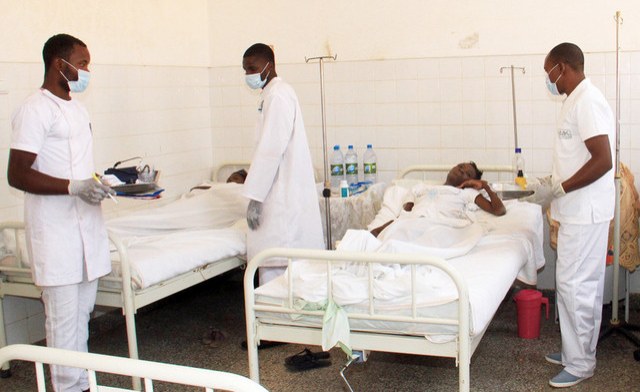 Uganda: Paramedics call off strike after talks with government
Additional Sourcing: Zahra Namuli
ADVERTISING
Allied Health Workers decided to call off their strike after successful negotiations with the government.
Health workers had deposited their tools on May 16, accusing the government of not implementing the presidential directive to increase their salaries.
ADVERTISING
This week, the government had threatened to fire all the strikers but they continued the strike.
However, on Wednesday officials from the Ministry of Health led by the Director General of Health Services, Dr Henry Mwebesa and the Association of Allied Health Professionals led by their President, Patrick Alibu, held a meeting during which it was agreed that all striking health workers return to work.
According to Alibu, the decision to call off the strike follows a joint position with Health Ministry officials based on agreed positions.
On the issue of pay disparities which was the main cause of the strike, Alibu noted that the government had agreed to handle the presidential directive to increase all salaries of health workers and scientists.
"And as also stipulated by the Minister of Public Service, in his letter of May 27, 2022, and we are requested to await the conclusion of the budget process and the publication of the new salary structure from the financial year 2022 /23." Alibu said.
On the service scheme, he said the government had assured that the process would be concluded by mid-July 2022 and would encompass all service schemes including degrees.
Furthermore, it was also agreed that no one will be victimized for taking part in the industrial action.
In light of this, Alibu called for all health workers arrested or victimized by different district chiefs or authorities to be released unconditionally. He also called on all strikers to return to work from Thursday.
"We are asking all allied health professionals in their various disciplines below to return to work effective June 2, 2022 as we continue to await the conclusion of the budget process and the development of the salary structure by the Department of Health. Public service." Alibu said.
For his part, Mwebesa explained that the decision to call off the strike was based on government assurances that steps had been taken to raise the salaries of all health workers from the next financial year 2022/23.
He added that the government is committed to expediting issues related to the service program for allied health workers and staffing structures through a consultation process with all stakeholders, including the allied health workers themselves.
"We therefore expect all health workers to report for duty with immediate effect. Any striking health workers who return to duty immediately will not be subject to disciplinary action." said Mwebesa.