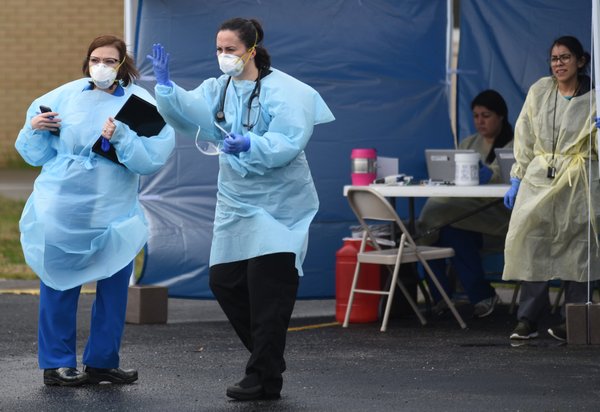 Regional health organizations screen for covid-19
[ad_1]
FAYETTEVILLE – Healthcare facilities in northwest Arkansas continue to screen people for covid-19 in several locations.
A joint statement released Monday by the region's largest healthcare organizations stressed that people should use the online and call options before going to a testing location.
"Covid-19 is a contact disease," the statement read. "To protect you and our teams, it is important that if testing is required, you are tested in an appropriate location where personnel have the appropriate personal protective equipment. We have tightened our visitor policies and are limiting access to facilities for this very reason. "
[CORONAVIRUS: Click here for our complete coverage » nwaonline.com/coronavirus]
The statement comes from the Arkansas Children's Northwest, Community Clinic, Mercy Hospital Northwest Arkansas, Northwest Health System, Washington Regional Medical Center, University of Arkansas for Medical Sciences, and Veterans Health Care System of the Ozarks.
Most healthcare facilities have delayed surgeries that are not urgent and more often use telemedicine so patients can speak with staff by video or phone instead of going to in-person appointments.
Washington Regional has a coronavirus hotline and clinic in addition to a clinic for people with respiratory illnesses who do not meet the requirements to get tested for covid-19 due to the ability to test limited.
The Washington Regional hotline received 7,360 calls as of Sunday, and the two clinics had 1,080 visits as of Sunday, according to Cynthia Crowder, spokeswoman for Washington Regional.
Mercy is demanding that people call ahead before heading to her drive-through coronavirus testing clinic in Rogers. Everyone who is told to go to the clinic is tested for the virus. Mercy's hotline had received about 1,800 calls as of Monday afternoon and its clinic had seen 391 people, said Jennifer Cook, a spokesperson for Mercy.
Testing sites in northwest Arkansas do not test on-site for the virus, but collect samples from people who meet federal guidelines from the Centers for Disease Control and Prevention to test. Samples are sent for testing, usually to the Arkansas Department of Health and commercial labs. Samples are taken by oral and nasal swabs.
Mercy announced on Monday that she was taking additional steps to help stop the spread of covid-19.
Mercy will welcome patients with acute injuries at its orthopedic clinic located at 1000 S. 52nd St. in Rogers. Patients should be referred to the clinic by their primary care physicians, according to a press release.
"We want to get these people to a place where they won't be exposed to people with respiratory illnesses," Cook said.
Mercy will also open a temporary triage space near the main entrance to the emergency room at her Rogers hospital to screen people for the coronavirus before they enter the emergency room.
"Adding this extra level of triage also protects patients who visit the [emergency room] for unrelated issues. An initial triage nurse will quickly assess the reason for a patient's visit and, if covid-19 is suspected, the patient will be isolated from others and treated in that space. If potential Covid-19 patients are sicker, they will be routed through a separate entrance to minimize exposure to the waiting room and to other patients, "according to the press release.
Screening sites
Coronavirus screening is available at:
• UAMS Digital Screening: www.uamshealth.com/healthnow
• Washington Regional Hotline: Daily 8 a.m. to 6 p.m., (479) 463-2055
• Washington Regional Coronavirus Testing Center: Daily 10 a.m. to 6 p.m., 3318 N. North Hills Blvd. in Fayetteville
• Arkansas Children's Hospital Child Health Hotline: (800) 743-3616
• Mercy's Coronavirus Assessment Site: 8 a.m. to 3 p.m. Monday through Friday, 8 a.m. to noon Saturday and Sunday, 2090 S. Promenade Blvd. at Rogers. Patients should call (479) 717-7585 ahead of time to get tested.
• Siloam Springs Medical Community Clinic: 500 S. Mount Olive St. No. 200 in Siloam Springs. 8 a.m. to 5 p.m. Monday to Friday.
• Rogers Medical Community Clinic: 1233 W. Poplar St. in Rogers. 8 am-5pm Monday to Friday.
• Elmdale Elementary School Based Health Center: 420 N. West End, Suite B in Springdale. 8 a.m. to 4:30 p.m. Monday to Friday.
• Fayetteville Medical Community Clinic: 162 W. Martin Luther King Jr. Blvd. Office 13-14 in Fayetteville. 8 am-5pm Monday to Friday.
• Springdale Medical and Pediatrics Community Clinic: 614 E. Emma Ave., Suite 300 in Springdale. 8 am-5pm Monday to Friday.
• Medical Associates of Northwest Arkansas Family Medicine South: 2523 E. Huntsville Road in Fayetteville. 7 am-5pm Monday to Friday.
• MedExpress Urgent Care: 1160 S. 40th St. in Springdale. 8 am-8pm every day. Patients should call (479) 750-2971 to make an appointment.
• Northwestern Medical Center: 601 SW Regional Airport Blvd. in Bentonville. Patients can call (479) 306-7507.
• Northwestern Medical Center: 2158 Butterfield Coach Road, Suite 100 in Springdale. Patients can call (479) 306-7507.
• Veterans registered with Veterans Affairs healthcare can call (800) 691-8387.
Source: NWA Democrat-Gazette
News from the NW on 03/31/2020
[ad_2]