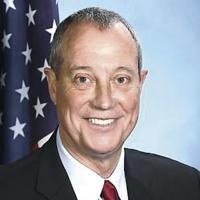 Marquart Passes Incumbent Simmons in Race for Washington, New Haven County | local news
Of the three candidates in the race for Washington's District 109 seat, incumbent Rep. John Simmons, R-Washington, was technically overtaken in the second quarter by fellow Republican Kyle Marquart, also of Washington. However, Simmons has raised more than $100,135 towards his re-election bid.
The top single donors to Simmons' campaign and their contributions were Tim Hellman, a contractor for Wildwood-based Kelpe Contracting Inc., $500; Beverly Ehlen, a self-proclaimed professional volunteer, $300; Lois Keeven, a New Haven resident who works in the heating and cooling industry, $300; dr Bryan Menges, ER at Mercy Hospital Washington, $250; Washington attorney Steven Kuenzel Jr., $250; George Meyer, a Washington-based financial adviser, $250; Lisa Smart, Deputy Clerk of Franklin County, $200; Merciful Doctor Dr. Keith Ratcliff, $100; and Washington School Board member Kelly Brinkmann, $100. Judge candidate Charles Hurth gave $125.