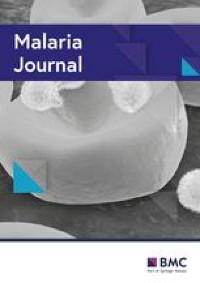 Impact of the COVID-19 pandemic on malaria cases in health facilities in northern Ghana: a retrospective analysis of routine surveillance data | Malaria Diary
The Covid-19 pandemic has major consequences on the functioning of health services and direct and indirect effects on the burden of various diseases [29, 30]. In this article, the effects of the pandemic on the number of malaria cases in health facilities in northern Ghana, a highly endemic region for malaria, are described.
In northern Ghana, a slight but significant drop in malaria cases was observed during the 2nd and 3rd quarters of 2020. This drop is all the more significant as the period coincides with the rainy season in northern Ghana ( May-November) when the majority of malaria cases are recorded. Cases did not rebound to the average levels of previous years until late 2020. This trend was visible in both outpatient and inpatient settings, but more pronounced in the inpatient population. The same is true for children and adults, where reductions were also seen in both groups, but were more marked in children under five. The marked drop in March/April 2020 can be explained by the extensive movement and gathering restrictions and early advice to stay home for COVID-19-like symptoms unless these become severe. Such measures have likely reinforced reluctance to visit health facilities during the pandemic, which in turn poses a major risk of developing severe malaria. [13, 31]. The decline observed in March/April 2020 was even more remarkable among hospitalized patients. This does not support our initial assumption that in cases of more severe malaria manifestation, patients were still brought to health facilities and hospitalized, despite the pandemic. The results of this analysis support the hypothesis that the burden of reported malaria in health care facilities will decrease due to the effects of the COVID-19 pandemic in countries with high malaria endemics. [32]. They also support the findings of the WHO World Malaria Report [13]and they agree with the results of similar studies conducted in other countries in sub-Saharan Africa classified as highly endemic for malaria, such as Sierra Leone, Uganda and the Democratic Republic of Congo. [33,34,35,36].
The sharp decrease in visits to DPOs in health facilities in northern Ghana in September 2020 could be explained by unusually heavy flooding that started in mid-August, which may have further complicated access to health services . These floods provided favorable habitat for Anopheles mosquitoes, which could explain the observed increase in malaria cases in October 2020.
Malaria cases seen in health facilities among pregnant women show a different trend. After a drop in April 2020, cases rebounded rapidly in this population and reached even higher levels compared to previous years. The most likely explanation for such a reverse trend would be the early reluctance of pregnant women to visit health facilities. This is likely due to fear of being infected with COVID-19, combined with initial disruptions in the provision of IPTp to women in antenatal care (ANC) services as well as disruption in routine distribution of ITNs . [37]. Disrupted access and delivery of antenatal care services likely explains the trend in malaria cases in April. However, without IPTp or ITNs, more women were at risk of malaria afterwards, which may explain the subsequent increase in malaria cases in the following months. Also, many pregnant women likely requested missed ANC with subsequent malaria diagnosis after the initial movement restrictions were lifted.
Ghana had already achieved high levels of ITN coverage and no mass ITN campaigns were planned for 2020 [13]. However, the routine distribution of ITNs, which is usually done in health facilities during antenatal care sessions and in primary schools, had to be adapted to COVID-19 measures, which included the closure of schools from March 2020 to January 2021. [38, 39]. In addition, the seasonal malaria chemoprevention intervention in children and the annual indoor residual spraying of insecticides, both of which require physical contact between health workers and the community, needed to be modified. . [40, 41]. Another consequence of the COVID-19 pandemic, the supply of rapid diagnostic tests for malaria was fragile, which may have led to underdiagnosis of cases. [42]. The main explanation for the low number of malaria cases observed in health facilities was limited access to health facilities – public transport was unavailable or unaffordable, and health facilities were closed or provided only reduced services [43, 44]. This is supported by the results of a study conducted in Rwanda which showed that visits to health facilities for malaria decreased while community health services for malaria increased. [43]. Finally, reports of reluctance to visit health facilities for fear of being infected with COVID-19 were common. [37, 42]. Last but not least, the capacity of malaria health workers was limited due to frequent reassignments to the fight against COVID-19, stigmatization or absence following quarantine, or the development of COVID-19 disease. 19 or even death. [14, 39, 45].
This study has strengths and limitations. A strength of the study is that the data represents an entire year of pandemic tracking, which provides a more complete picture of the effects compared to previous studies with much shorter study periods. In addition, analysis of the subgroups of children under five and pregnant women provides a more complete picture. A major limitation is that the surveillance system itself may likely have been affected by the pandemic, producing a bias in the reported numbers. Massive under-reporting could have distorted the observed trends and our conclusions. Furthermore, it is unclear whether the quality of monitoring data is fully comparable over the five years observed. Data from the northern region of Ghana may also not be representative of other malaria-endemic areas in SSA, therefore the study has limited external validity. Absenteeism in health facilities by people with symptoms of malaria who switched to self-medication or traditional medicine or who could not afford to access formal health care during the pandemic may also have had an effect, although unknown, on malaria figures [46]. Especially in the early months of the pandemic, many people may have used off-label malaria drugs to prevent and treat COVID-19, which may also have had an impact on the malaria situation. [13].