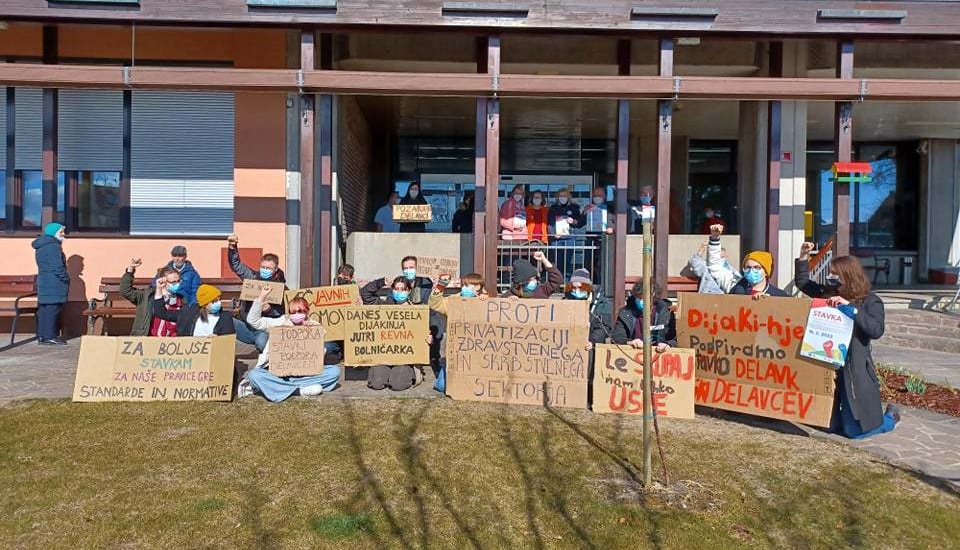 Healthcare workers in Slovenia go on strike : Peoples Dispatch
Workers on strike outside a healthcare facility in Maribor, Slovenia. Photo: Rdeča pesa
Healthcare workers and union members in the health and care sector in Slovenia, including the Union for Health and Social Security and the Union of Nurses in Florence, staged a one-day strike on February 16. Physiotherapists, nurses, pharmacists, and auxiliary workers at public health facilities across the country have stopped their work as the government betrayed its 2018 pledge to enter into negotiations to strengthen workers' health care rights.
While several ministers, including health and labor ministers, have denied the unions' claims and insisted the government has taken adequate steps to protect the rights of health workers during the pandemic and beyond, including the allocation of additional resources and new job openings, unions have warned that working conditions in the health system remain poor – compounded by years of neglect and insufficient funding in the public health sector . Among other issues, trade unionists pointed to the high emigration rates of some health professions, notably nurses, and the extremely precarious situation of public care establishments, including retirement homes.
The unions are calling for an overall increase in rights to take into account the increase in living expenses. In particular, they ensure that the increase is implemented fairly across all professions. This request is linked to a recent decision by the government to increase the level of remuneration for senior doctors, which excluded all other health workers. While one of the main doctors' unions, FIDES, has signed this agreement, other unions have issued very severe criticisms, believing that such a move would undermine solidarity between health personnel and put doctors seniors, who already enjoy the best rights in the sector, in an even more advantageous position compared to others.
The decision was eventually blocked by the Slovenian Constitutional Court, but unfortunately the court's decision did not elicit an appropriate response from the government and FIDES members did not join the strike. On the other hand, the strikers have received many expressions of support from trade unions in other sectors, including education and commerce, as well as from international trade union confederations. In one open letter published a few days before the strike, the European Union of Public Services expressed its full support for the strike, stating that: "Faced with a government that does not understand or respect the work of health and care workers, workers overwhelmingly support the action."
Health workers were also supported by progressive organizations in Slovenia. Among others, the collective Rdeca Pesa described the strike as an important step in the fight for a public and accessible quality health and care system, calling on people to support striking health care workers. In an outline of the actions, they wrote: "All workers need a public health system, no matter where they work. Our unity is a key condition for its protection and expansion.
Read more articles from the latest edition of the People's Health Dispatch and subscribe to the newsletter here.