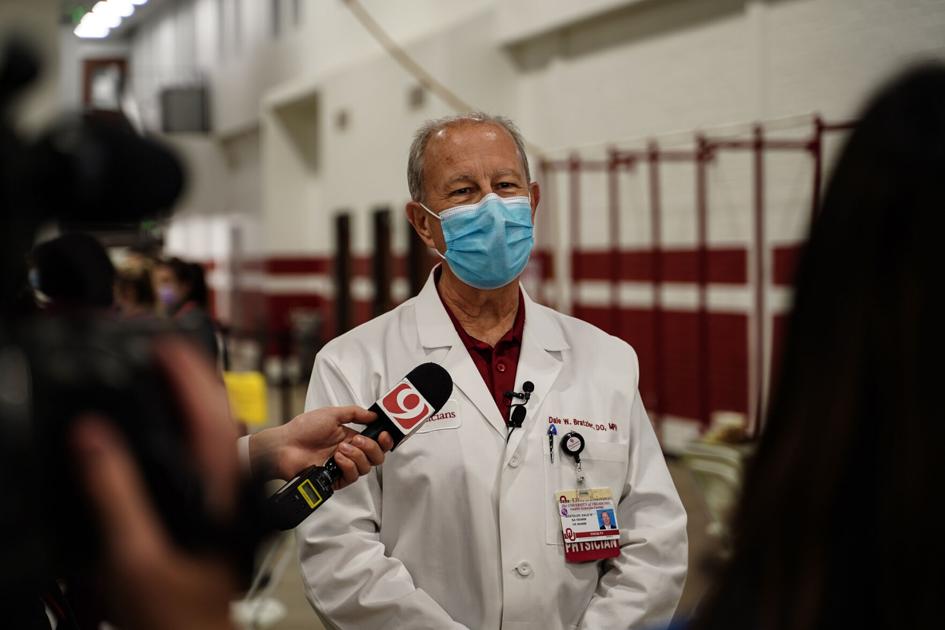 'Fight with us, not against us': Oklahoma health professionals call for vaccination as hospitals push again | New
After more than a year of battling the COVID-19 pandemic, Oklahoma health officials gathered on a bleak Tuesday outside the University of Oklahoma Medical Center with an urgent message: "The virus is far from being conquered ".
The rapid rise in COVID-19-related hospitalizations statewide precipitated by the delta variant has again resulted in a widespread shortage of hospital beds and staff from Oklahoma City subway to rural facilities, said Jennifer Schultz, Senior Vice President of Marketing and External Relations at OU Health.
Tuesday's press conference was held at the same location and shared much of the same content as a November 2020 media event attended by Oklahoma Governor Kevin Stitt and health officials from the State. During the conference, Dr. Lance Frye of the Oklahoma State Department's Board of Health warned of the increase in infections and the lack of available intensive care beds.
COVID-19 OU chief Dr. Dale Bratzler and several other medical professionals reflected that message on Tuesday. However, unlike the November event, several vaccines are now available to thwart the spread of COVID-19, and the now preventable increase in hospitalizations has proven frustrating for some speakers.
Current data on new cases and hospitalizations paint a disheartening picture, Bratzler said, with increasing trends towards numbers seen much earlier in the pandemic, before vaccine doses were available. The current 7-day average of new infections is 2,213, roughly equal to the November 2020 average.
"It seems sad that we are here today for another press conference," Bratzler said.
As the 7-day average of new cases in Oklahoma peaked at around 4,000, Bratzler said the current number of hospitalizations for COVID-19 was increasing faster towards the previous peak of around 2,000 statewide. .
"Right now we're just under 1,400 people in hospital with COVID-19, which puts us at about 70% (from the previous peak)," Bratzler said. "More people diagnosed are ending up in hospital… The virus we treated last year has mutated. We have seen the delta variant devastate the country of India. It is at least twice as contagious as the original variant and is very easily spread from person to person.
The easier-to-propagate delta variant is especially dangerous for unvaccinated Oklahomans, Bratzler said. OSDH data reported that 93% of current hospitalizations related to COVID-19 are unvaccinated patients. As of August 11, OSDH reported that less than 50% of the state was fully immunized.
Immunization rates among young people are also of concern as classes resume for the fall. Only "about a third" of the age group has received "at least one dose" of the vaccine, Bratzler said.
As over 25,000 students return to OU-Norman for in-person instruction and OU welcomes its the largest freshman class in history, the university's COVID-19 dashboard has not been updated since August 4. The free COVID-19 tests are also no longer available to OU students.
A spokesperson for the OU wrote in an email Tuesday afternoon that the university is developing a new COVID-19 dashboard that "better aligns" with Oklahoma reports and includes data of the OU's Healthy Together app. The new dashboard will be released later this week and will be updated weekly.
"We have a lot of vulnerable young people entering classrooms across the state," Bratzler said.
However, teachers have little control over COVID-19 masking or protocols in their classrooms. The university has not "strongly encouraged" masking on campus, although Bratzler noted that many people with COVID-19 could likely be asymptomatic or have minimal symptoms, especially if they are fully vaccinated.
While instructors may choose to hold office hours on Zoom or have students stay away from them after class, according to an email to professors at Gallogly College of Engineering, they may not need masks. in class.
"If you are concerned about masking, you should work with your school so that students can use masks when they enter the classroom," the email reads. "You can include language that encourages masking and vaccination (following the OU's advice) in your program and verbally. You need to make sure that you don't use any language that makes it compulsory, or penalize or shame students for not disguising themselves.
OU cited state legislation, including Senate Bill 658 and Stitt's Executive Order 2021-16, as barriers to imposing masks on campus in the same way as in the past. last two semesters. Some legal experts and lawmakers have said these laws may not be foolproof to ban masks in universities.
In Arkansas, a similar law was blocked by a judge, and Indiana University's decision to implement a vaccination warrant was upheld by the United States Supreme Court.
"We cannot continue to see this as a left-to-right political issue… This way of thinking does not solve the problem. Instead, it has created a sense of complacency in our communities as more and more people die, "said Dr. Bahar Malakouti, neurohospitalist and stroke medical director at Mercy Hospital Oklahoma City. "We are tired of living this nightmare of almost two years. We are tired of masks, isolation and quarantine, and we constantly wonder if we are making the right decision by weighing our physical and mental health. "
Complacency is part of what brought Oklahoma back to the spread of COVID-19 that speakers called "catastrophic," Bratzler said.
"We have let our guard down. We had fallen to 99 cases a day by early June, "Braztler said. "(But then) we opened up, we relaxed our mask mandates in communities across the state, people no longer saw immunization as a priority."
Bratzler urged Oklahoma residents to consider getting vaccinated as part of their "civic duty" to protect others across the country.
"I've said before that my father was an infantryman in WWII, about as patriotic as he could get," Bratzler said. "I remember standing in line and holding her hand as an elementary school student to chew a lump of sugar with the polio vaccine, and we saw what the polio vaccine did for our community." … We destroyed the disease and I have not been aware of any polio cases in the United States for many years.
INTEGRIS Health chief medical officer Dr Julie Watson said she and all her colleagues were "exhausted". She encouraged everyone to get the vaccine as soon as possible and to look for widespread misinformation regarding its safety.
"I want this pandemic to be over for my children, my family, my friends and the hundreds of patients we care for every day. I want life to get back to normal, "Watson said. "COVID-19 vaccines were developed quickly, but they were based on 30 years of preparation. This family of viruses has been around for a very long time, and scientists have been studying them and trying to develop vaccines for decades, long before this one was identified. No test phase was skipped. Speed ​​came from years of preparation.
As all of Oklahoma City's major hospital systems feel the pressure of limited bed space and staff, and Oklahoma residents routinely face extended wait times for healthcare. Emergency due to the admission of COVID-19 patients, frontline healthcare professionals have pleaded with the public to do their part to eliminate the virus.
"We are seeing critical COVID patients in their 20s, 30s and 40s this time around with a lot of life to live on – they're scared," said Reagan Wickwire, COVID-19 intensive care nurse at SSM Health St. Anthony. . "Please fight with us instead of fighting against us. We don't want your last words with your (family) to be during a FaceTime call. "
This article was updated at 1:48 p.m. on Tuesday, August 17 to include information on the university's new COVID-19 dashboard.