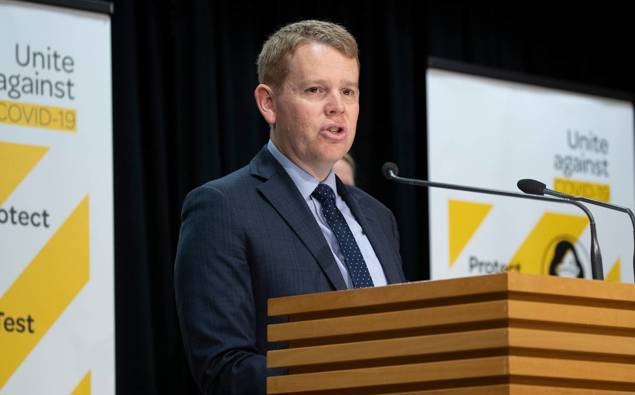 Compulsory vaccination for education and health personnel
Hundreds of thousands of education and health workers – including teachers, general practitioners, pharmacists, nurses – will need to be fully immunized in the coming months or risk losing their jobs.
The two-dose deadline for high-risk health and disability staff is December 1 of this year, and for education – including all school and ECE staff who come into contact with students – it is January 1st of next year.
Secondary schools, from next year, will also be required to keep a register to show the vaccination status of students.
Covid-19 Response Minister Chris Hipkins, who is also Education Minister, has just revealed the Cabinet decision on mandatory vaccinations for education and health workers.
"It is not an easy decision, but we need people who work with vulnerable communities who have not yet been vaccinated to take this extra step," he said.
"Derogations may be possible in certain circumstances. "
Healthcare workers will need to be fully immunized by December 1 of this year and must have received their first dose by October 30.
The public health order requiring it will include general practitioners, pharmacists, community health nurses, midwives, paramedics and all health workers in sites where vulnerable patients are treated (including intensive care units).
"These requirements also include some unregulated health work, such as residential care for the elderly, home and community support services, Kaupapa Maori health providers, and NGOs that provide health services," he said. said Hipkins.
The full list will be provided in the coming days.
All school and ECE staff who come into contact with children and students should receive a first dose by November 1 and be fully immunized by January 1.
"This includes home educators and anyone who supports people in our schools and early learning services such as teacher assistants, administrative and maintenance staff, and contractors," Hipkins said.
"High schools and kura will also be required to keep a Covid-19 vaccination register for students. Students who do not produce proof of vaccination will be considered unvaccinated. "
Hipkins said all school workers in Auckland and other Level 3 regions will be required to return a negative Covid-19 test before they can return to work there.
"Those who are not fully vaccinated in the period leading up to January 1, 2022 will also be required to undergo a weekly Covid-19 test. "
The government was still considering whether compulsory vaccinations would be required in the higher education sector.
While there has been support for mandatory vaccinations for these workers, there has also been some setback.
The New Zealand Council of Trade Unions has previously warned that a general vaccination order could do more harm than good as it could create a sense of coercion.
And more than 5,000 people have signed a petition calling for mandatory non-vaccination, which has been submitted to Parliament.
This morning, a number of health and youth experts, in a public health blog post from the University of Otago, called for a clear strategy to minimize infections in schools.
These included compulsory vaccination for all adults at school sites – and no on-site learning to start before 90% vaccination coverage for staff – regular staff testing, school vaccination events and guidelines on ventilation, physical distancing and mask use.
Auckland schools were due to open from October 18, pending public health advice.
ECE centers in Auckland opened last week, but limited to bubbles of 10 people and subject to availability – some centers were already at full capacity as essential workers could already drop off their children at ECE centers.
Medical organizations support the mandatory vax call
The Royal New Zealand College of General Practitioners supported the call for mandatory vaccinations for people in the health and disability sector.
"As healthcare professionals, we must ensure the safety of our patients, our communities and our colleagues," said University President Dr Samantha Murton.
"Given the speed at which Delta is spreading across our country, this is a bold but necessary appeal to make.
"The people who work in these two sectors work in close contact with our most vulnerable members of the community; those who are too young to be vaccinated or have significant underlying medical conditions.
"While most GPs are already fully vaccinated, now is the time to make a last ditch effort to be fully vaccinated by December 1, 2021. This means our GPs need to receive their first dose by October 30 to be fully vaccinated by the deadline. "
The New Zealand Medical Association also welcomed the announcement, with President Dr Alistair Humphrey saying the move would ensure the safety of patients and healthcare workers.
"Today's announcement will save lives," he said.
"All physicians should be immunized, and we know the vast majority are. Principle 1 of the New Zealand Medical Profession's Code of Ethics is that the health and well-being of the patient is a physician's top priority. . "
Doctors and other healthcare workers are more likely to be exposed to Covid-19 in the course of their work, he said.
It follows that their patients, many of whom are debilitated or immunocompromised, are more likely to suffer from serious complications if they are infected by the doctor.
"We asked a month ago that all doctors involved in patient care be fully immunized – we are delighted that the government has come to the same point of view. "
ProCare, New Zealand's largest network of primary health care workers, also praised mandatory vaccinations for health care workers.
Chief Executive Officer Bindi Norwell said it was something ProCare advocated in order to protect doctors, nurses, chiefs of staff and the thousands of patients who enter general practice each year.
"This is about providing certainty to patients and ensuring that we are protecting some of the most vulnerable patients our practices see. We also hope this will mean that patients feel safe to see their doctor, rather than postponing. a visit until absolutely necessary.
"It will also bring certainty to the health sector in terms of legislative approach; so that everyone knows where it stands, what the rules are and there are no areas of confusion."
Businesses would welcome an order – Barnett
Mandatory vaccination for education, health workers and related services is an important principle that should apply to all workplaces that strive to ensure the safety and health of their employees and customers, a said Michael Barnett, CEO of the Auckland Chamber of Commerce.
"If no jab no work is to be the rule for certain people-oriented services by order of government, then this is certainly a principle that business owners would also welcome by order of government, as well as allowing urgent access. rapid testing technologies to better manage and reduce risk. "
Barnett said it was extremely disappointing that Auckland remained in a waiting pattern without easing restrictions as the virus sets the pace and leaks continue at the border.
– by Derek Cheng, NZ Herald