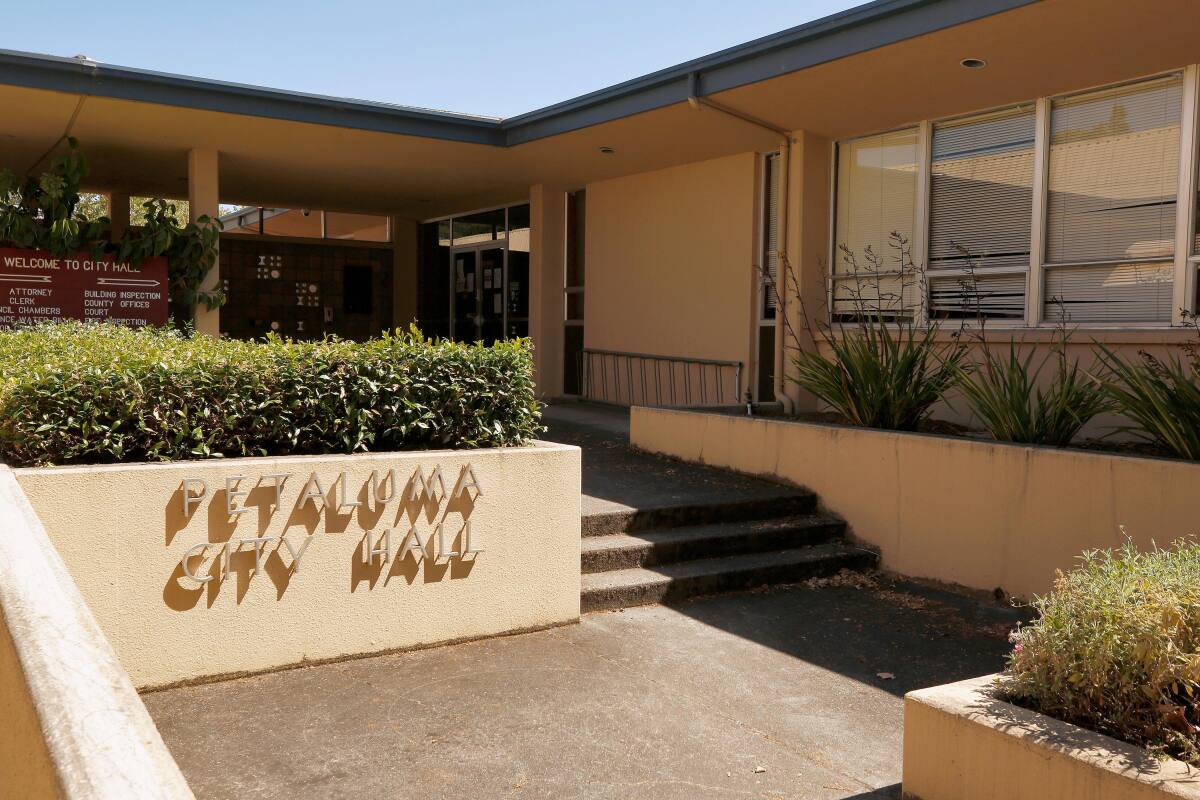 Amid the controversy, Petaluma will give employees $1,000 in bonuses and upgrade facilities with coronavirus relief funds
The Petaluma City Council this week advanced plans to spend nearly $8 million in federal coronavirus relief funding, including the one-time money to upgrade city facilities, a tiny home village for the homeless and $1,000 in awards for city workers to use.
The controversial spending decisions came two weeks after sharp public criticism prompted a deadlocked six-member city council to delay approval. Residents on Monday warned elected leaders not to approve what many saw as a slightly tweaked spending plan.
But with a full, seven-member council available for Monday's meeting, the largely divided board approved all but $650,000 of the $8.3 million the city approved as part of the $350 billion budget bailout plan act from President Joe Biden.
"We have a long list of needs in this city, and I think that's an indisputable fact," Councilor Dave King said. "I was ready to support the staff report two weeks ago … I am ready to make a decision (now)."
Led by King, the council took five 13-point votes, including a unanimous decision to use public contributions to allocate $650,000 of funds originally earmarked to ease utility payments. With state legislation — and state funding — set to fill that gap, city leaders chose to set that part aside for other priorities.
A plan to spend $1.7 million on makeshift housing solutions, like a tiny home village, for the city's homeless residents, and a $2.5 million proposal for HVAC and coronavirus-related safety improvements at city facilities received unanimous approval.
But council members sharply split over other initiatives, including allocating $500,000 to remodel the Petaluma Police Department and spending $800,000 to replace a Petaluma Fire Department truck.
Councilor D'Lynda Fischer, who voted against both measures and was the only dissenter against the city's plan to give employees $1,000 in bonuses, said she was more cautious this week than at the council's previous meeting, to discuss the expenses.
"I've had a few weeks to calm down," she said. "But I'm still angry."
Fischer said COVID-19 relief money provided by the federal government should not be used for fire trucks and city workers, arguing there is a greater need in the community. Though she praised the city workers as "great," Fischer said the money was better spent elsewhere.
"We have 600 utility customers who can't pay their utilities that owe an average of $1,100 each," she said. "These are the people we need to support."
Fisherman and Vice Mayor Brian Barnacle, who also voted against a variety of spending proposals, channeled the frustrations of a vocal group of residents who took turns calling the moves deadbeat and shameful, including one woman who compared the lack of climate action. in connection with expenses for the "rearrangement of the deck chairs on the Titanic".
"I want you to be re-elected," resident Beverly Alexander said during the meeting. "And when you do something like that, it gets pretty risky."
However, the Petaluma Chamber of Commerce stood firmly behind the original staffing proposal, backing the majority of council members who had few concerns about the spending package introduced two weeks ago.
"As the personnel report correctly states, the city's needs are great," writes the chamber in a statement to the city council. "Given the intense demands on the city's resources, we could all make our own list of priorities and how we spend that (money). However, all of the items identified by city staff in the spending plan are needed, and staff have made reasonable efforts to ensure a balanced allocation."
Councilor Kevin McDonnell, who was on holiday when the board failed to reach an agreement two weeks ago, agreed and said he was enthusiastic about proposals to help homeless residents, improve public safety and ensure coronavirus-proof city facilities.
"I'm impressed with the breadth of services," said McDonnell.
Tyler Silvy is Editor of the Petaluma Argus-Courier. You can reach him at [email protected], 707-776-8458 or @tylersilvy on Twitter.